Le nuove donne
"Walk like an Egyptian" (The Bangles) – 1985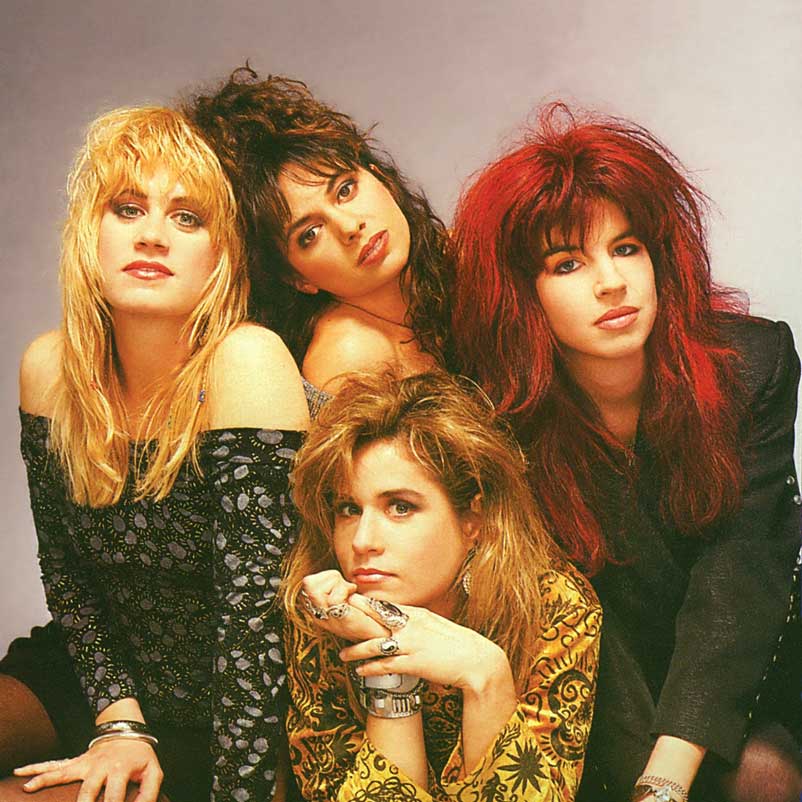 Le due sorelle Vicki e Debbie Peterson suonavano nelle strade di Los Angeles quando erano ancora adolescenti, all'inizio degli anni 70 – due hippie. Susanna Hoffs, invece, suonava e cantava i Beatles con la mamma, un'insegnante della comunità ebraica di Los Angeles. In terzetto suonavano con il cappello a terra per le monetine e giravano la California come tre figlie dei fiori, finché un pomeriggio non si fermò ad ascoltarle Prince, che le portò in studio, procurò loro un contratto e scrisse la loro prima hit, "Manic Monday". Durante tutti gli anni 80 le Bangles sono state non solo una pop band di grande successo, ma il simbolo di una nuova femminilità aggressiva e consapevole, eppure tutt'altro che promiscua – esattamente ciò che piace agli americani. Susanna Hoffs, grazie anche alla sua voce particolare ed ai grandi occhi neri, ha fatto anche una rilevante carriera come attrice. Per almeno un decennio le Bangles hanno profondamente influenzato il modo di vestire, di muoversi e di essere delle ragazze occidentali, specie nel mondo anglosassone, ed ancora oggi sono una band che può permettersi di rischiare grandi arene e riempirle, nonostante le tre ragazze siano oggi vicine ad avere 50 anni. Seguendo la loro scia, il cinema americano ha prodotto diversi nuovi miti femminili (per esempio la Demi Moore dii "Ghost", la Diane Lane di "Streets of fire", la Sigourney Weaver di "Gorilla nella nebbia" e di "Un anno vissuto pericolosamente", la Meryl Streep di "La scelta di Sophie", e persino la Julia Roberts di "Pretty woman"). In Italia questo modello non ha mai attecchito, anche perché la consapevolezza della fine del capitalismo industriale e della sua sostituzione con il circo della finanza creativa sta arrivando nel nostro Paese soltanto adesso, dopo la crisi del 2008 e l'inizio della recessione. Negli anni 80 le ragazze italiane, molto più a lungo dei ragazzi, sono rimaste quelle dei due modelli contrapposti dei decenni precedenti: proletarie o parioline. Anche perché la crescente solitudine ed alienazione delle grandi città americane, da noi, per fortuna, è arrivata con immenso ritardo, e si sta affermando oggi solo a causa della straripante volgarità e mancanza di cultura.
"Walk like an Egyptian"
All the old paintings on the tombs,
They do the sand dance, don't you know?
If they move too quick they're falling down like a domino.
All the bazaar men by the Nile, they got the money on a bet.
Gold crocodiles they snap their teeth on your cigarette.
Foreign types with their hookah pipes say
Walk like an Egyptian.
The blond waitresses take their trays
They spin around and they cross the floor;
They got the moves. You drop your drink then they bring you more.
All the school kids so sick of books, they like the punk and the metal band.
When the buzzer rings,
They're walking like an Egyptian.
All the kids in the marketplace say:
Walk like an Egyptian.
Slide your feet up the street, bend your back
Shift your arm and then you pull it back.
Life's hard you know so strike a pose on a Cadillac.
If you want to find all the cops
They're hanging out in the donut shop.
They sing and dance spin the clubs cruise down the block.
All the Japanese with their yen, the party boys call the Kremlin
And the Chinese know
They walk the line like Egyptian.
All the cops in the donut shop say:
Walk like an Egyptian
Walk like an Egyptian.
(Liam Sternberg)